Wooden Map of Ireland Wall Art │ Personalised Irish Gift
€75.00
This wooden map of Ireland wall art is engraved in English or Gaelic with the recipient's native townland, or anything you wish. It's the perfect gift for your loved-ones, especially those with Irish heritage, or a strong connection to Ireland!
Handmade with love by Furniture Designer-Maker Cian Magill, each piece holds a truly unique story & is a one-of-a-kind. The map is made from an Irish Sycamore tree that lived in Co. Galway since c. 1945, & also comes packaged beautifully. See description below for what's included. Size: 12″ x 8″ x 1″. Free Worldwide Delivery.

Enter location & preferred language below. Example: Galway, Irish. Text is engraved in the beautiful old Irish 'Bunchló' font (widely used in Ireland since medieval times). 

Shipping Times:
Ireland: 1-3 business days

 

UK: 3-5 business days

 

Europe: 3-7 business days

 

Everywhere else: 7-10 business days

 
Product Description
Wooden Map of Ireland Wall Art │ Personalised Irish Gift
The Wooden Map of Ireland Wall Art also includes a Fairtrade organic-cotton bag (screen-printed in Dublin), & a beautiful Celtic-style story card. Handcrafted in County Galway with respect, care, & love – by Magill Woodcraft Ireland. Finished in natural walnut oil.
Note: my maps of Ireland are made-to-order (1-2 days) so grain details will vary, giving each piece its own personality. But be assured, whoever you have in mind for this unique Irish gift will be smitten by its rareness & beauty!
*****
What's included:
1 x Wooden Map of Ireland Wall Art
1 x Screen-printed bag (Fairtrade organic-cotton)
1 x Celtic-style info card with product & maker's story
1 x Free engraved location
1 x Tack nail
1 x Lovely gift box
*****
Please feel free to contact me if you have any questions. Beannachtaí agus Sláinte,
Cian Magill.
Email: magillwoodcraft@mail.com
Tel: 00353 (0)85 188 8102
*****
The Story of a Wooden Map of Ireland…
This piece is a truly special one to me. It's the earliest design of my wooden maps of Ireland range, and it holds a special place in my heart. I love how a magical new creation can come about. This often occurs after I've made the item as a gift for a family member or close friend.
Originally, I designed and made this piece as a last-minute gift for my friend's birthday. I could never have imagined that this gesture would change my journey forever!
I loved the finished wall map so much, that I said it was worth trying as a product. The response was amazing. The piece really seemed to strike a chord with people's hearts, and their Irish heritage. It became apparent quite quickly, that us Irish are everywhere! Especially in countries like the United States of America, with over 1/10th of the population claiming Irish ancestry!
As a wiser man than myself once said, "Everyone comes from somewhere". I think as these maps are a one-of-a-kind, and personalised for each recipient, people feel re-connected with their motherland, and their Irish roots.
Crafting these pieces by hand allows me to do what I love. But I also get to hear many interesting stories, that each and every one of us beholds. When I make a map for someone, I feel humbled and honoured as a little part of their journey.
As the Gaelic seanfhocail (saying) goes, 'Ní fhásann crann ar bith leis féin' – No one tree grows alone. And this little piece of Ireland (quite literally) has certainly taught me this!
Additional Information
| | |
| --- | --- |
| Weight | 0.75 kg |
| Dimensions | 30 × 20 × 2.2 cm |
| Quantity | 1 Map of Ireland |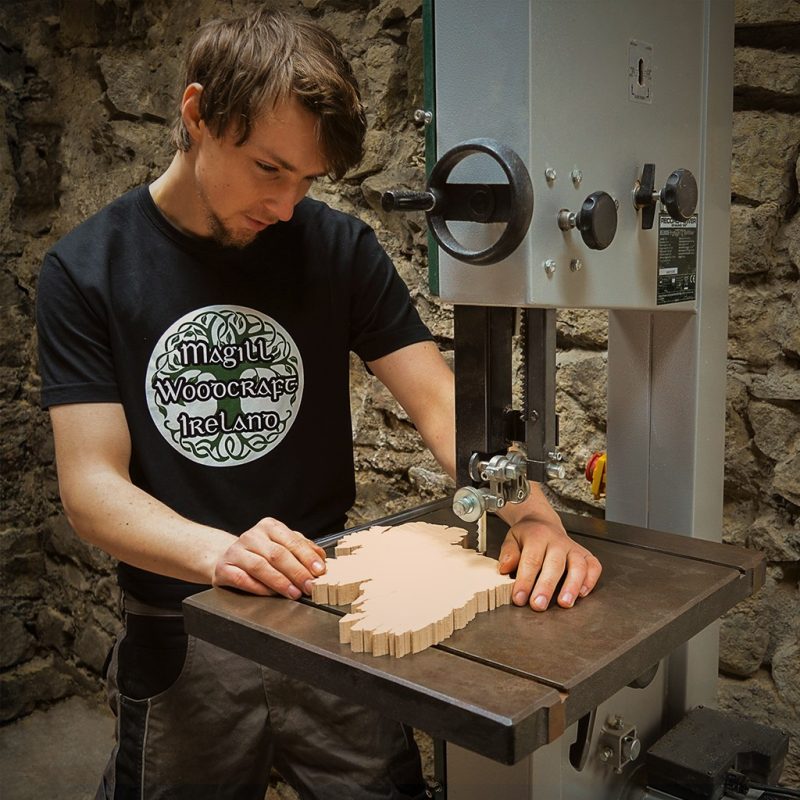 Cian Magill is ainm dom, and here's a little bit about my journey…
Studying Furniture Design & Manufacture at GMIT Letterfrack completely changed my life. I discovered a passion for working with my hands, and creating totally unique pieces. When I work with wood I feel truly connected to the material, and at one with nature.
I began to develop Magill Woodcraft Ireland in 2016, my second year of college. Since then I have continued to learn, and constantly aim for the highest quality craftsmanship.
Along with conserving our enchanting Irish culture, my mission is to exceed customers' expectations, by crafting some of the most heartfelt & beautiful wooden gifts in Ireland.