I was born in 1995, and have been lucky enough to grow up in the beautiful countryside of Belclare, Tuam, Co. Galway. I had a great childhood, which included a mixture of world travel and education. Having creative, hands-on, and self-employed parents has truly been a blessing, and has always given me that drive to be different, and independent.
I certainly had an interest in art and creativity from a young age. Apart from my early creations as a child, my interest in art truly took off in secondary school. This is when I realized that I loved creating and working with my hands.
With my mother's main occupation being a commercial artist and father's a film set carpenter, I've been able to watch and learn so many skills, not to mention all of the creative opportunities. Some include - experience in the film industry from a young age, helping construct St. Patrick's Day floats, learning how to sign-write and paint murals, and many more.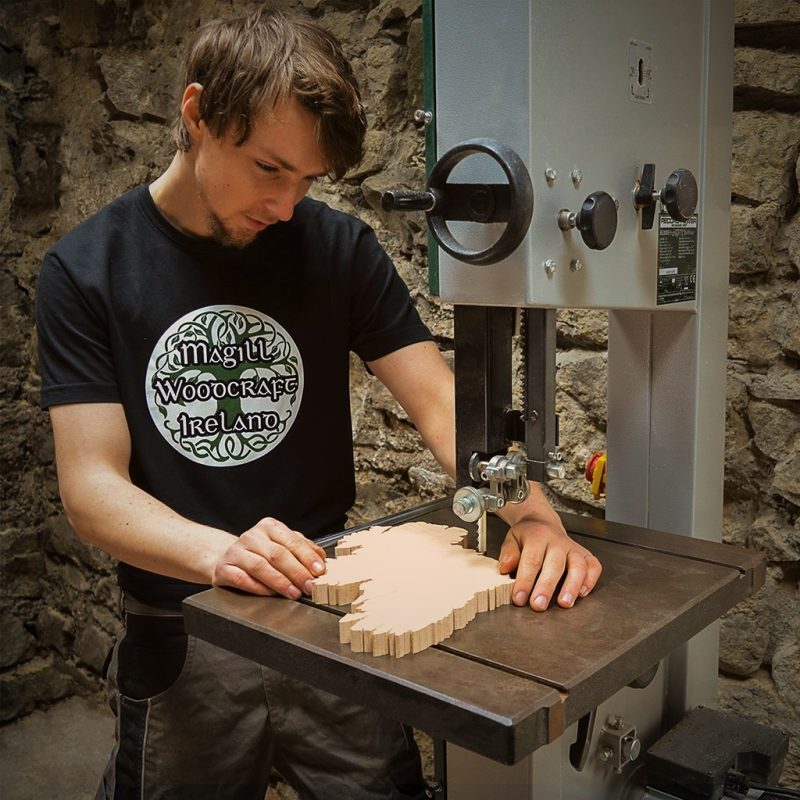 As I went on to study Furniture Design and Manufacture at GMIT Letterfrack, it was clear that this was the perfect course for me. I absolutely loved working with wood, and being able to design and make totally unique creations, including bespoke furniture and woodturning pieces.
During my second year of college, I began to learn the fascinating process of woodturning. It was around this time I realized I wanted to set up my own business, and began to develop Magill Woodcraft Ireland. Some of my early wooden creations included a set of classic wood-turned spinning tops, made from native Irish hardwoods. You could say that these were the early days of my entrepreneurial journey.
Between secondary school, working in the film industry, and my course at GMIT Letterfrack, I experimented with a variety of materials. It was clear in the end that wood was my absolute favourite, for its sheer beauty, variety, and feel.
Many things inspired, and still inspire, me for my creations. Some of these include our native Irish culture, mid-century modern & Scandinavian design, nature, art, and so much more! Of course, in the early days I also looked at other Furniture Designer-Makers, and there were a few who's work in particular I loved. Their design style and outstanding craftsmanship set the bar high for something to aspire to. All of this evoked my ambition to create one-of-kind pieces, designed to suit the customer's needs.
Seeing the end result after making a piece has got to be one of the things that I love the most. This evokes a true sense of satisfaction, and is also most motivating. The process of revealing the wood's beautiful grain, and finally applying a finish is truly enjoyable. I also really love creating new custom-made pieces, which are often inspired by a customer's request. I'm so grateful for my customers' ideas, as they often plant a seed that grows into something wonderful.
It's become clear since I set up Magill Woodcraft that patience is hugely important when creating. Rushing a piece towards the end is an easy mistake to make, which I'm sure many of us crafters have learned the hard way! Customer satisfaction is also highly prioritized when creating. I've always aimed at making sure a customer is more than happy with their purchase. Along with all of this, quality craftsmanship and originality are also essential to our practice.
Apart from working in the Welsh film industry for a couple of months a year, and some mural painting assistant work, Magill Woodcraft is a 24/7 job!
Thank you for reading!
Beannachtaí agus Sláinte,