From one-of-a-kind creations to personalised wooden gifts. Beautiful, heartfelt, & crafted with love in Co. Galway!
Our most-loved Handmade Irish Gift...
'Identity' - Personalised Wooden Map of Ireland Art
Everyone comes from somewhere. Engraved in English or Gaelic with any location of your choice, each map holds a truly unique story. Connect your loved-ones with their native Irish townland, & cherish a memory for generations to come! 
Click 'Select Options' below.

Enter location & preferred language.


Checkout & cherish for generations to come!
Engraved in beautiful old Irish font 'Bunchló' (widely used in Ireland until mid 1900's). Includes lovely gift box & Celtic-style packaging! Each piece is a one-of-a-kind & handmade in Ireland with quality craftsmanship.
What do people say about it?
"I am a man in his seventies. I try not to show my emotions, but when I opened my Map of Ireland with my town shown on it in old Irish script, I was close to tears....
These maps are beautifully crafted. As gifts you cannot put a value on them. Made with love, to be given with love. Much care also goes into the packing and presentation. If you want something special for a special friend, give a Magill Woodcraft Map of Ireland. You will not regret it."

A truly Unique Irish Wedding gift...
Personalised Traditional Irish Wedding Goblet
In 17th century Ireland when a man fell in love with a woman, he carved a wooden goblet for her. This was lovingly crafted with two captive rings, all from a single piece of wood.
These two rings symbolised love & unity. At the couple's wedding feast, they both drank from the goblet. So long as the rings remained unbroken, they would love each other forever.
Click 'Select Options' below.
Enter couple's names & date of wedding/ anniversary.
Checkout & cherish for generations to come!
Engraved in beautiful Irish font 'Bunchló' with couple's names & date of wedding. Handmade from native Irish Ash in our small Galway-based workshop. Includes lovely gift box & Celtic-style packaging!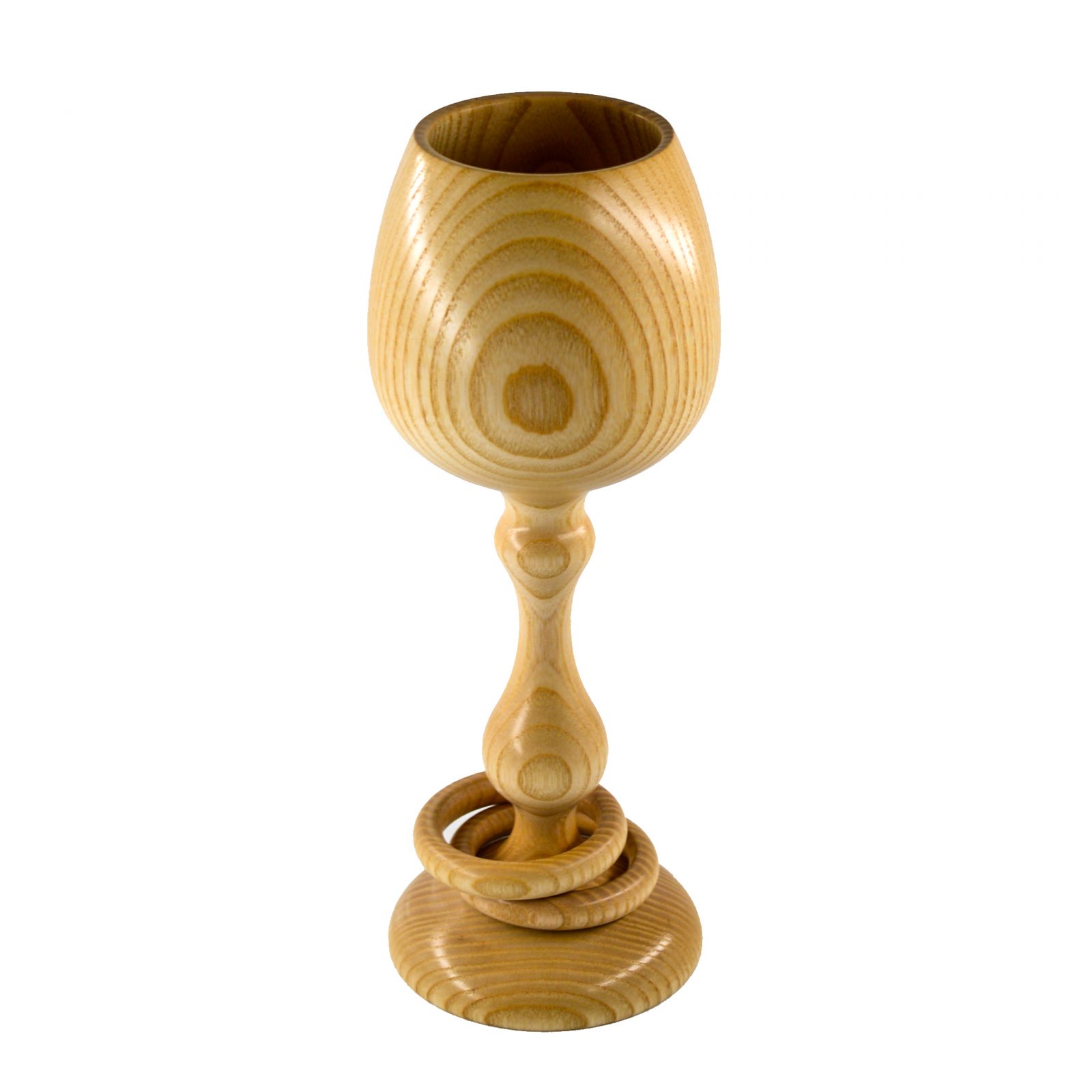 "The most beautiful item, I knew it would be amazing but it completely exceeded my expectations. You can tell it has been handmade with love and attention to every detail.
The service was fantastic, I received messages from the seller updating me on the progress of the item as it was being made which I very much appreciated. The item also arrived very quickly. I cannot recommend Magill Woodcraft enough."
- Abi Fitzgerald, 2018.

Quality Craftsmanship & an Irish Keepsake
Show how much you care with a true piece of Ireland, to be cherished & handed down through generations. Every piece Cian makes holds a unique and magical story, that only you can complete!
1. Locally sourced, quality Irish hardwoods.
2. Handmade in Ireland with love & care.
3. To be cherished for generations to come!
Céad Míle Fáilte! Cian Magill is ainm dom, and here is a little bit about my journey...
Studying Furniture Design & Manufacture at GMIT Letterfrack completely changed my life. I realised I had a passion for working with my hands, and creating beautiful items. When I work with wood and reveal its inner beauty, I feel connected to the piece, and totally at one with nature.
I began to develop Magill Woodcraft Ireland in 2016, my second year of college. Since then I have continued to learn, and constantly aim for the highest quality pieces.
Along with promoting our rich Irish culture, and the use of natural materials in our homes, my mission is to exceed customers' expectations by crafting some of the most heartfelt & beautiful wooden gifts in Ireland.