A truly Unique Irish Wooden Gift – Map of Ireland Wood Art

Like us all, every piece I make holds a special journey. It is amazing how a new piece can come about. These often occur when I least expect it, usually after I've crafted a unique Irish wooden gift for a friend or family member.
This was certainly the case for my Personalised Wooden Maps of Ireland. I'm a great believer in going with the natural flow of life, and I love when this results in a magical new creation, that may pivot the direction of my business – and my own personal journey!
In the Beginning there was Cian…
When I think back, I have a lot to be grateful for. With my Mum being a talented Commercial Artist/ Sign-Writer, and Dad an enthusiastic Carpenter in the Film Industry, inspiration and creativity was always a significant part of my childhood. I loved expressing myself through art, in one form or another.
This was developed further as I completed secondary school at Coláiste an Eachréidh in Athenry, County Galway. What a fantastic little school. And when I say little – it really was, when I went into first year. My class were only the third year since the school opened, and there was definitely something special about attending a school of only 30 students!
Of course this number increased by the time I graduated, but it was still great being part of a close-nit community, not to mind the extra care from teachers if needed. Not only this, but I also had a fantastic education of our nation's history and culture. With the guidance and inspiration of many great teachers, I quickly became a fluent Gaeilgeoir, and proud Irishman!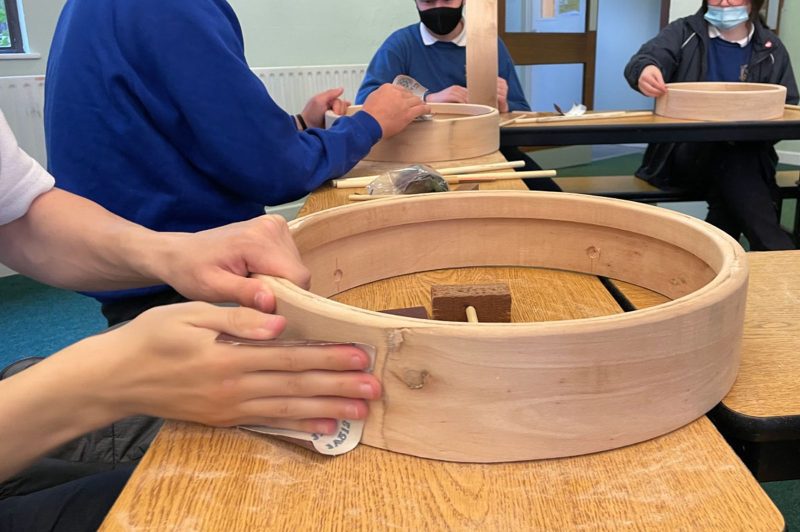 Although I only studied woodwork until the Junior Certificate, I was still able to choose Art for the following few years. This enabled me to create many different pieces using various materials. From Doctor Who puppets to still life drawings, and everything in between, I continued to improve my creative skills.
Towards my final year at Coláiste an Eachréidh, I also started to make hand-painted artworks for selling at local craft fairs. Many of these included pop-art style images of my favourite musicians at the time – Jimi Hendrix, Bob Marley, Rory Gallagher, and more. Oh to be young! I even set up a Facebook page as a starting point for this little venture, calling the business 'Magill's Art'. You could say that these were the early days of my entrepreneurial journey.
An Unexpected Passion…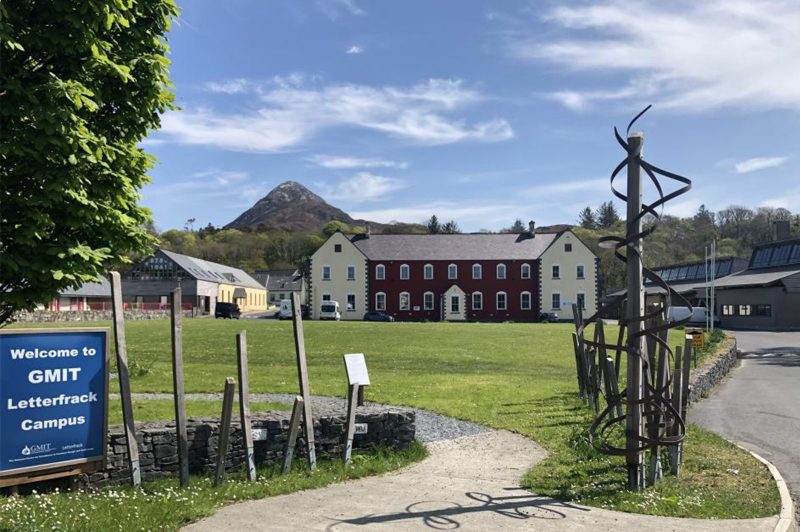 I couldn't be more grateful for my Mum's guidance to study Furniture Design & Manufacture at GMIT Letterfrack (now ATU Connemara). This was definitely the right course for me. This is where I learned my trade, and really discovered my passion for working with wood. From the design process to a finished product, I quickly realised the possibilities were endless!
Ever since my first year of college, I've made hundreds of different prototypes. This really all began when my class were given a project of creating an innovative wooden gift, to retail for under €50. I brainstormed and sketched many ideas, but eventually decided on some large wooden spinning tops, handcrafted from local Irish hardwoods.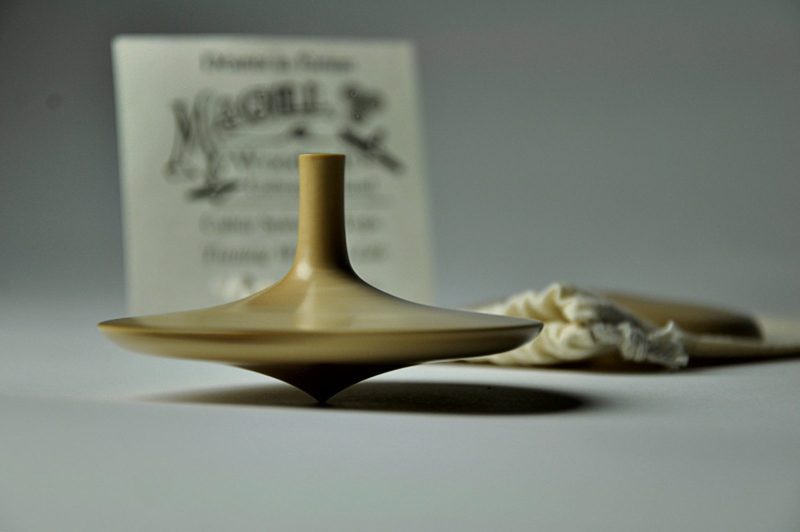 Luckily I'd just joined the woodturning society in college, and quickly fell in love with the craft. Not only did this project give me an understanding of product development, but it also inspired me start my own business – Magill Woodcraft Ireland. I loved the idea of being self-employed, and creating a brand unlike any other.
Perfectly timed, I'd also just stumbled upon some old receipt printing-blocks from my Grandfather's delicatessen business in Dublin. Established in the 1920's, 'Magill's' earned the reputation of being the best delicatessen in the capital. To this day, it still provides a wide selection of quality meats, cheeses, jams and more!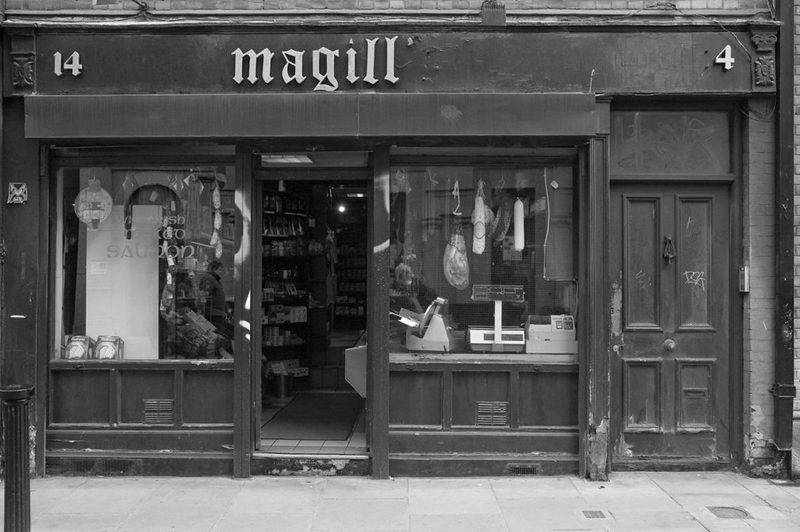 I love knowing that entrepreneurialism runs in the family, at least as far back as my great-grandmother, who started various small businesses in Dublin. Although unusual for a woman at the time, I'm not surprised – given the strength and ambition of the women in my family. My aunt Jane Magill also started her own aviation education business in Shannon, County Clare – 'Atlantic Air Adventures', and I couldn't be more proud of her.
As soon as I found the printing blocks in our heirloomed writing-desk, I knew the logo would be perfect for bringing back to life. And so, I began to transfer the image by hand. I did this by first getting a pencil rub of the design. I then outlined parts of the logo with a black ink pen, and retraced the image many times until I was happy with it.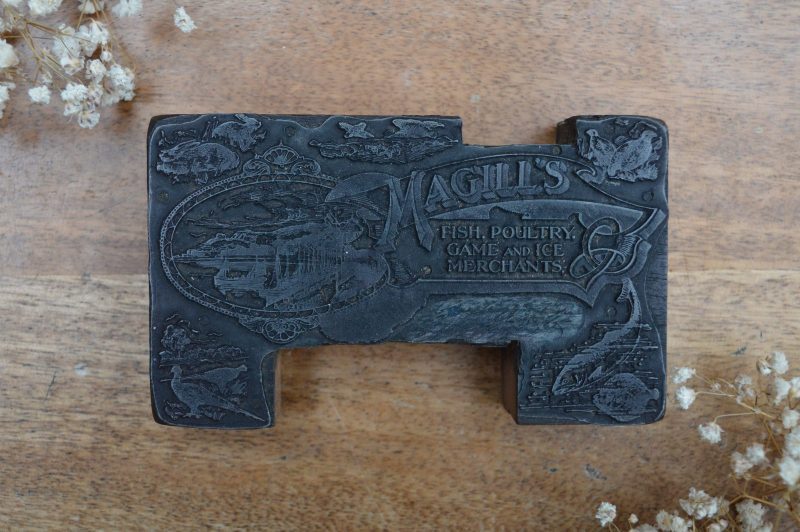 After this, I added my own details by drawing some nice little spinning tops each side of the logo. The final image was then scanned into a computer, and I replaced some text to suit my business. I loved the old-style look of the font, and this was a great starting point for my brand. The whole project really set me on the path of creating an Irish wooden gift like no other.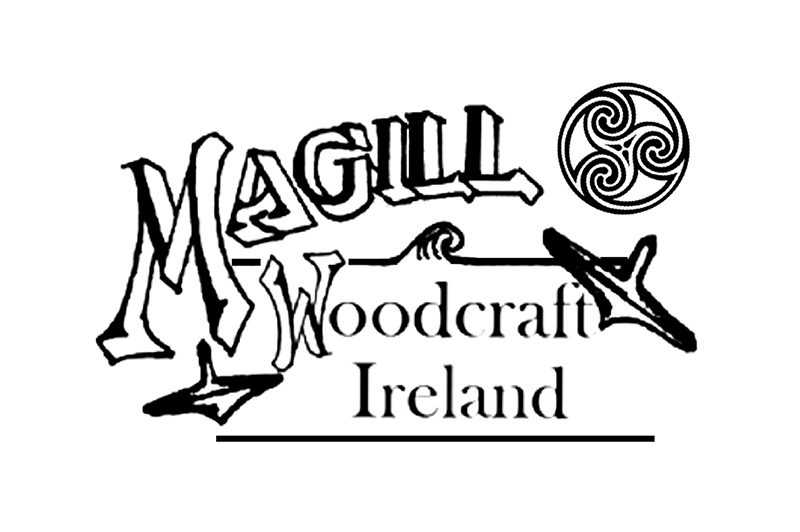 Before – the Journey. After – a unique Irish Wooden Gift!
Since my graduation in 2017, I have continued to build up my inventory of machines and tools. Sometimes you never know if a new machine is really necessary, as you can do so much just with a few basic hand tools.
However, after I purchased my first beloved woodturning lathe, I really understood the value of investing in your own business. The next main machine I bought was a nice Record Power bandsaw. If I'd known this machine was going to revolutionise my business, I would have acquired one sooner!
Like any new tool, it takes a while of getting used to. It probably wasn't for at least a year until I crafted my first Wooden Map of Ireland wall art piece. I actually just made it for a friend's birthday, as I thought it would make a very special Irish wooden gift.
By this point I'd also purchased a great little laser engraver (another tool that transformed the business). I decided to engrave the piece with the Irish word for Galway (Gaillimh), using the beautiful old Gaelic 'Bunchló' font. This really added some uniqueness and beauty I thought. I absolutely loved the finished piece, and thought it was certainly worth trying as a new product.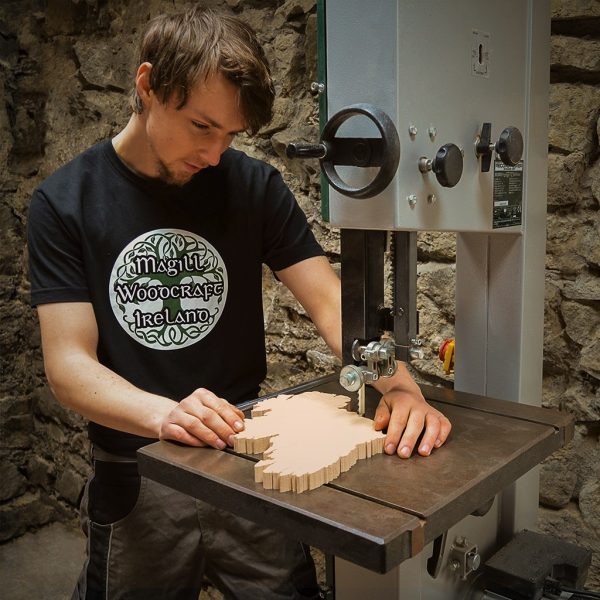 I couldn't believe the response after launching the product online. It really seemed to strike a chord with people's hearts, especially since each piece is personalised with the recipient's native townland, or anything required. As a wiser man than myself once said -"Everyone comes from somewhere", and you may have noticed – us Irish are everywhere!
This really became clear after I started making some sales. The amount of people who have Irish heritage, or a love of Ireland, is mind-blowing. In the USA alone, over 32 million people are reported to claim Irish ancestry, over a 10th of the population!
Since then, my Ireland wood art maps have become my most popular creations. Not only do I love making these (from beautiful, locally-sourced Irish Sycamore), but it's also fascinating to hear people's stories, and their affinity with Ireland. Sometimes this can be from a trip around our country, where they fell in love with our culture, but more commonly – it is their Irish roots.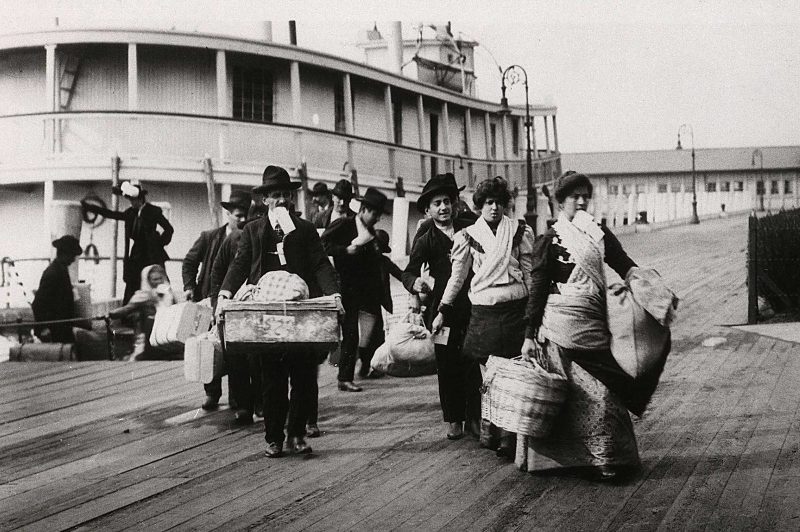 It really puts into perspective how many of us Irish emigrated around the world, just looking for a better life. I can't even imagine what it must have been like to leave your motherland, all those generations ago. However, being able to connect people with their ancestors and native land is a true honour – and brings so much joy to my heart.
Over the past couple of years, I've fine-tuned my creations, and have always aimed for true quality products. From branding to packaging, and craftsmanship to design, I couldn't be happier with how far these have come. It's amazing how much time you can spend on designing the perfect Irish wooden gift, or at least to me – the best it can be!
All of this is really important to me, because I strive to bring as much joy to my customers' hearts as possible – and always go beyond their expectations.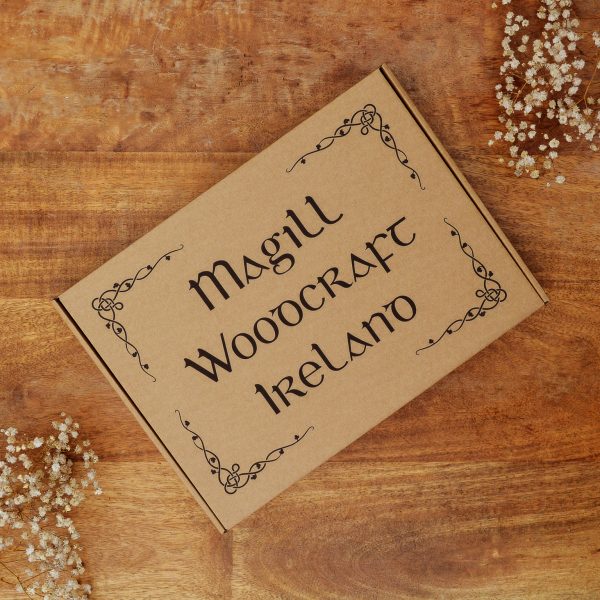 Locally-sourced, Native Irish hardwoods – a humbling Material…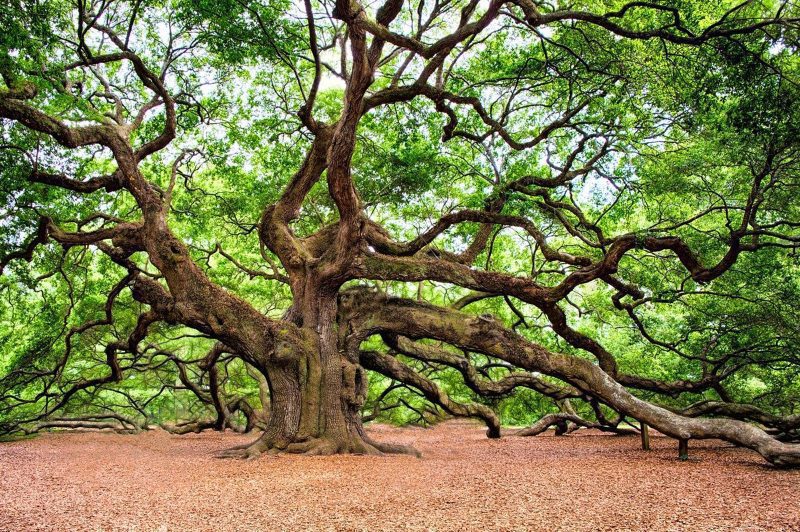 Nearly every step of the way seemed to have happened for a reason. Even something as small as a classmate's recommendation of a local timber supplier (based up the road from my home), has allowed me to work with some stunning local-Irish timber. Much of this is sourced from wild trees that have lived their life in County Galway.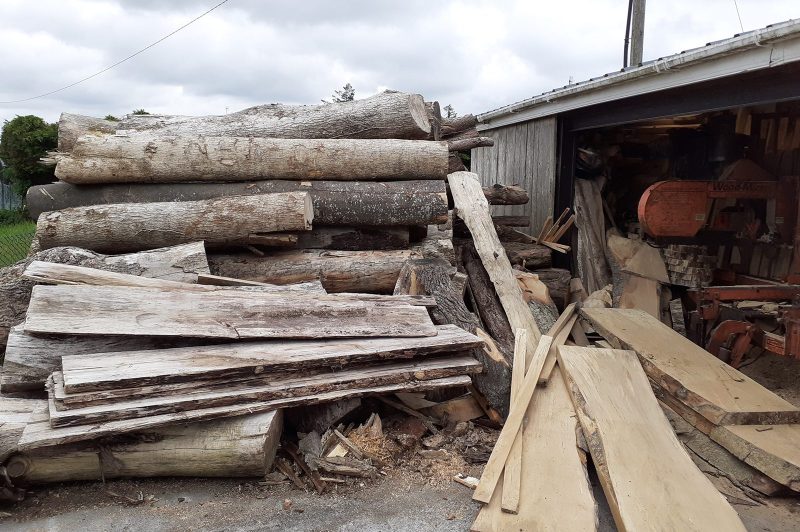 My timber guy knows various people throughout County Galway and Connaught. When a tree needs to be felled, or has come down in a storm, he is contacted and collects the timber. From what I've heard, some of the trees are definitely more awkward to fell and manoeuvre than others!
Once the tree is cut into logs of various sizes (up to 10 foot long x 4 foot wide), they are moved to his cottage. The logs are then milled into planks of different thicknesses. These depend on what the customer ordered, or general stock that will be needed.
I've been lucky enough to view this process a couple of times, and it's truly magical! You never know what the grain of a tree is going to look like. And when the log is sawn, the results can be so beautiful.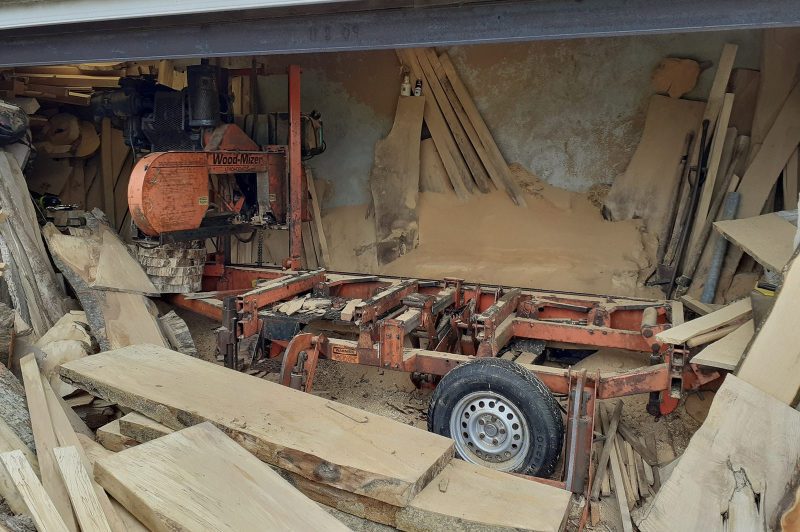 After this, the wood is stacked in a open-ended shed with 1-inch timber laths between each piece. The planks are then either air or kiln-dried, depending on what the customer needs. This process of seasoning (removing moisture from the timber) is essential before the wood can be worked with, at least for most woodworking projects anyway.
I usually purchase about 10 planks at a time, after spending a while selecting the cream of the crop! The pieces are then brought home, for further air-drying in my outdoor lean-to, or for working with straight away.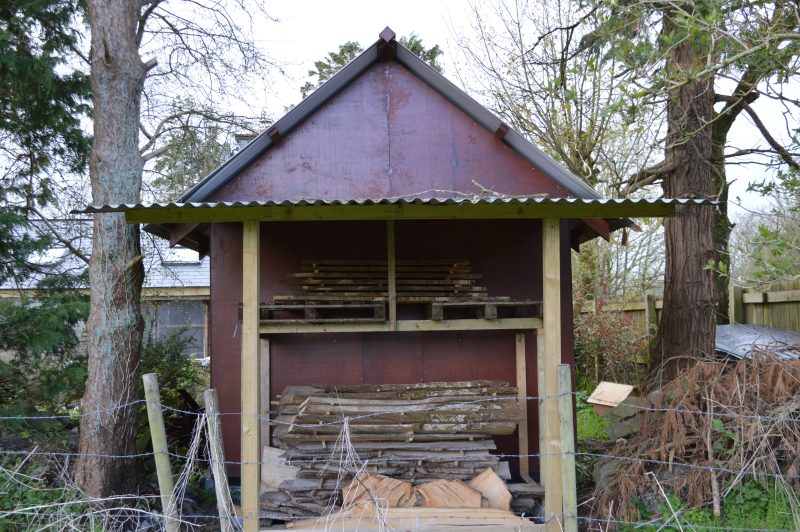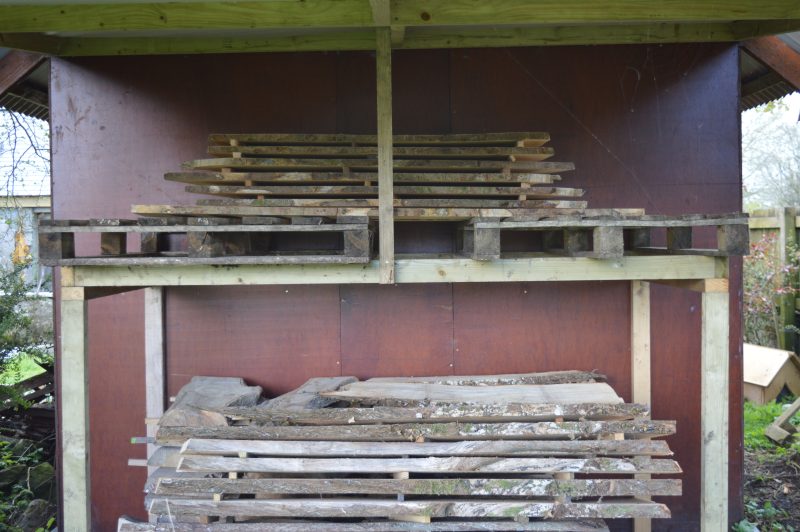 Making an Irish Wooden Gift come to Life…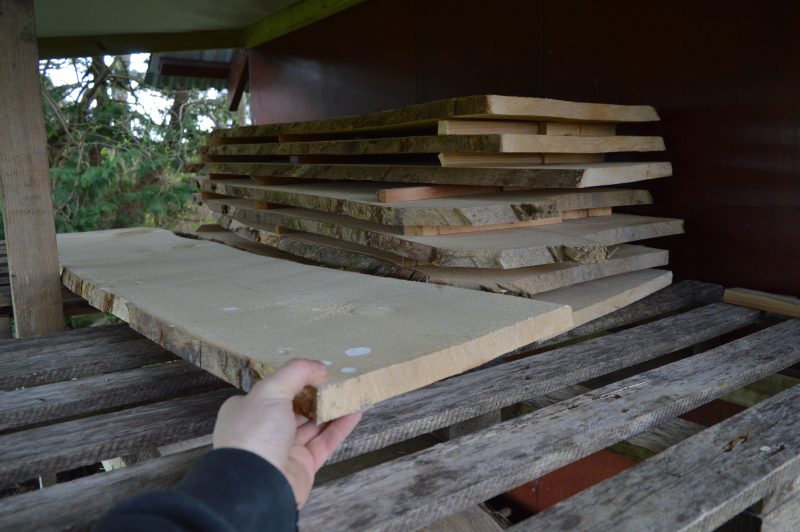 Now the fun part begins! This is when I really get to see the beauty of the wood come to life. After marking out the rough shape of my maps on a plank, each piece is cut out using a jigsaw. The maps are then planed smooth, as the grain is truly revealed for the first time. I love working with wild Irish timber, as every single piece is unique.
After sanding the surface to a finer finish, I can then begin to craft the final shape. This is done by first gluing down a paper template, using pritstick. With some good music in the background, I then use the bandsaw to carve our unique coastline!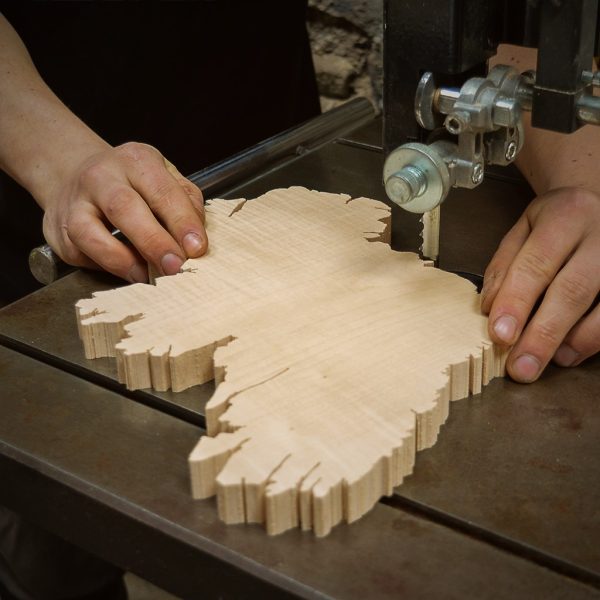 Once this is complete, I can remove the template by sanding it off the wood (with a higher grit sandpaper).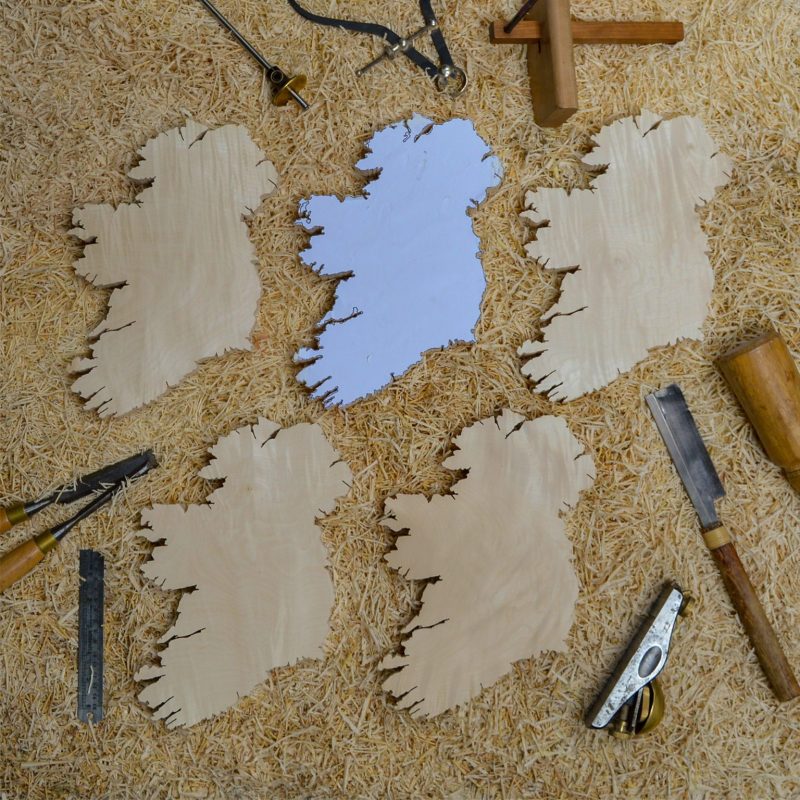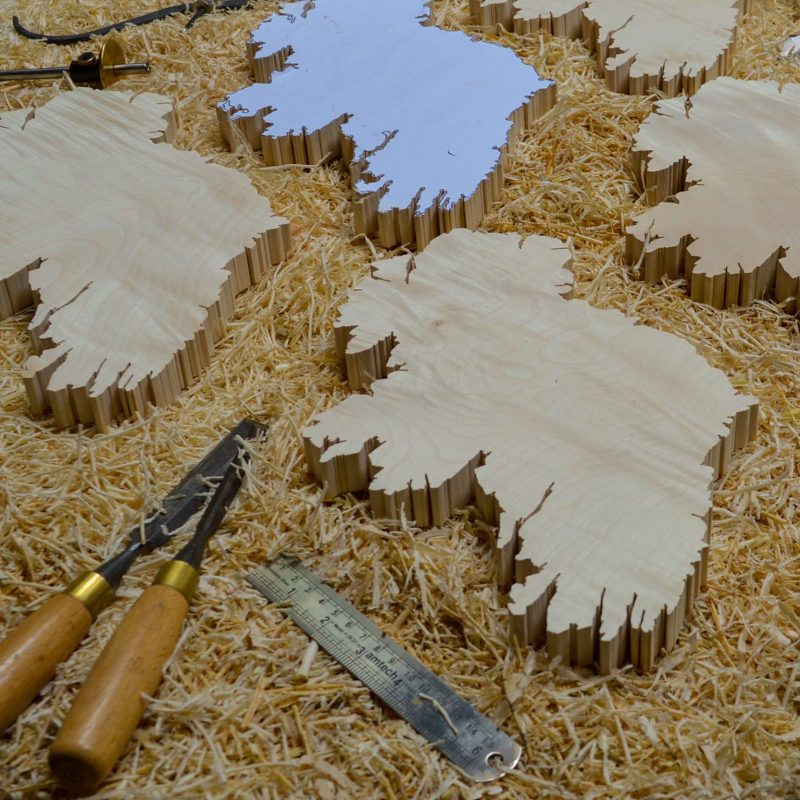 The final shaping step (before marking out where the customer's personalisation will be engraved), is to drill a hole in the back of the piece for wall mounting. I then use a pencil for marking the exact location of the recipient's Irish townland, or anything that is requested.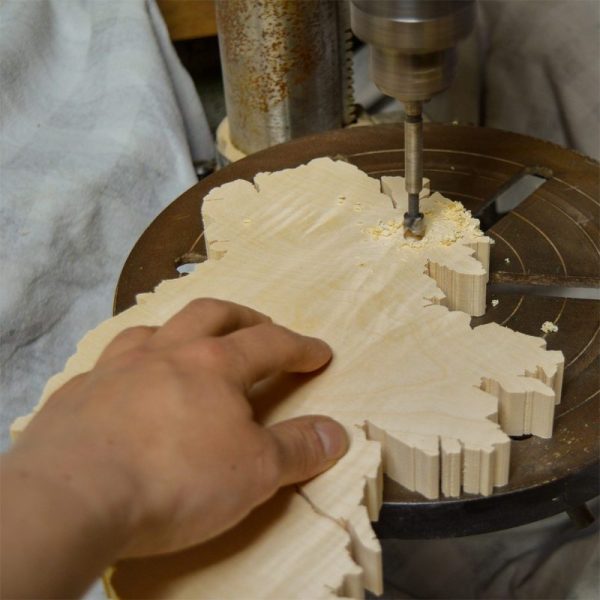 Once the customisation details are confirmed, I use Adobe Photoshop to create the text/ image that will be engraved. I've always loved using the lovely old Irish 'Bunchló' font. Not only is it beautiful (in the eye of the beholder!), but it was also widely used by our ancestors in Ireland since medieval times.
Originally devised for printing classical Gaelic, this originated in medieval manuscripts as an 'insular' variant of the Latin alphabet. Ironically, the first Gaelic typeface was designed in 1571 for a catechism commissioned by Elizabeth I, to help attempt convert the Irish Catholic population to Anglicanism!
After the map has been engraved, it's time for the final sanding/ finishing process. First I use an eraser to rub out the pencil marks. Then an even finer-grit sandpaper is used to get a beautifully smooth finish. The dust is brushed away carefully, and the piece is then ready for oiling.
I use a natural walnut oil and apply this first with a 1-inch brush, and then with a finer 3mm brush for getting right into the coastline. A cotton rag is used for a final wipe-down, to remove any excess oil. This is another magical process, as the grain details are enhanced by the oil, and shimmer in the light.
The last thing to do is assemble my gift boxes, and carefully package the piece for the next leg of its journey. I spent many hours designing these boxes, along with my screen-printed cotton bags and info cards. But all that fine-tuning was definitely worth it! In fact, to this day I still adjust my branding and certain design details, every so often.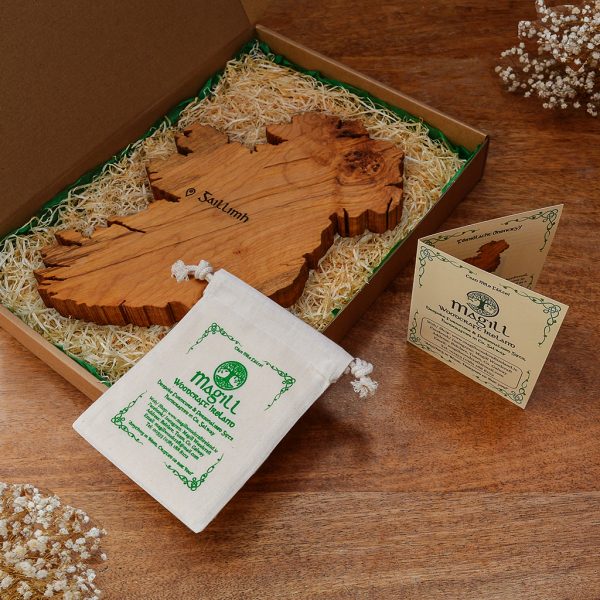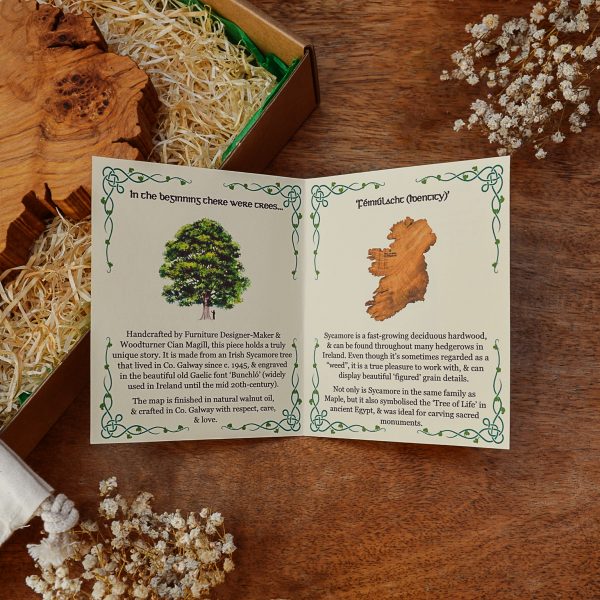 And so, the creation is complete! Another little piece of Ireland (quite literally!) off on its travels, to wherever that may be around the world.
From one Irish Wooden Gift to Another…
Between the hundreds of pieces that I have crafted, I've received many different customisation requests. Some of these have even resulted in new products suited to different occasions.
Sometimes a person may require more than one location (maybe as the birthplace of their parents, for example). Or they might know a couple getting married, and want to give them a really special, Irish wooden gift. Either way, I'm more than happy to accommodate, and honestly couldn't thank my customers enough as such great sources of inspiration!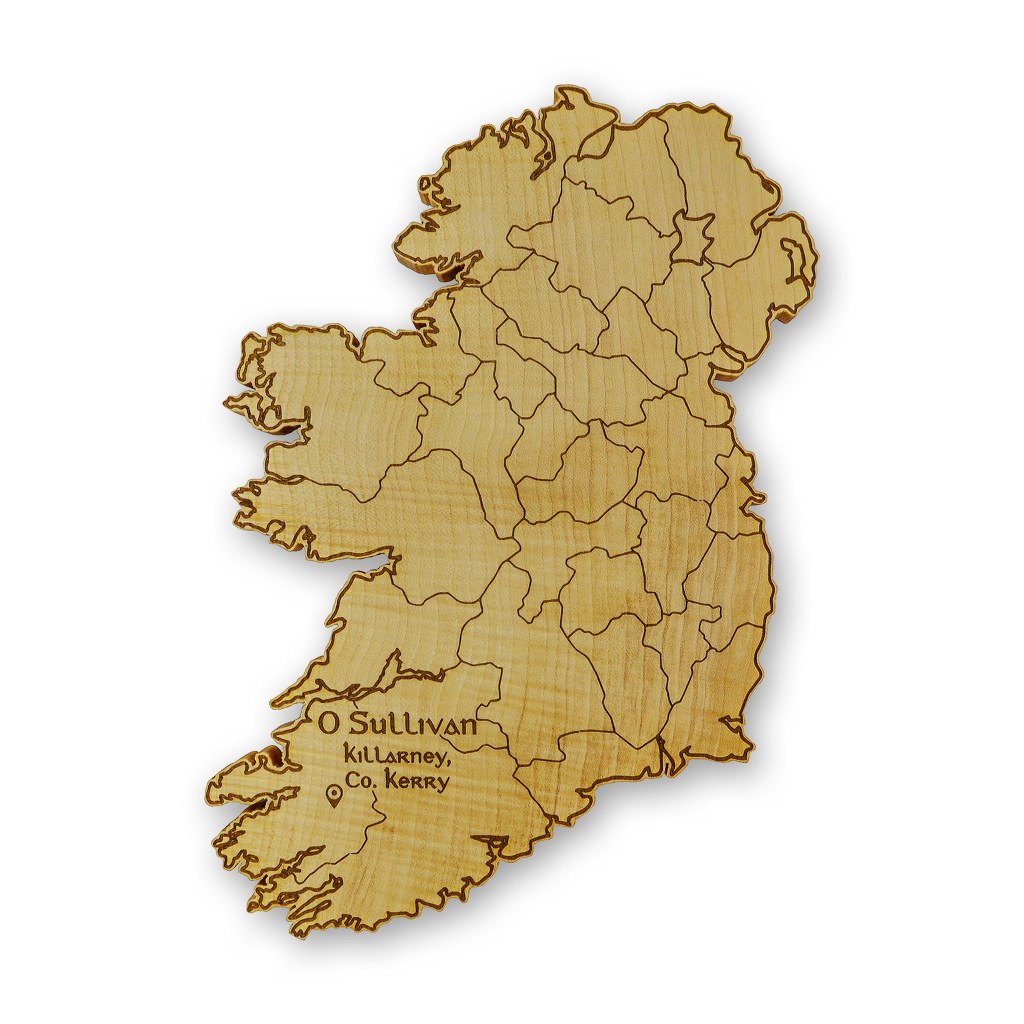 The second version of my maps I released included the lovely phrase – 'There's no Place like Home'. This also had a location engraved on the piece, which made it even more meaningful I thought. I liked the idea so much, that I said it was worth launching as a new product.
I thought it would also be nice to offer this phrase as Gaeilge – 'Níl aon Tinteán mar do Thinteán féin'. This is just one of the many charming Irish seanfhocail (sayings) out there. Literally translated, it means 'There's no Fireside like your own Fireside'.
Customers also have the option of choosing any phrase they wish, and this does happen fairly often, which always keeps things interesting!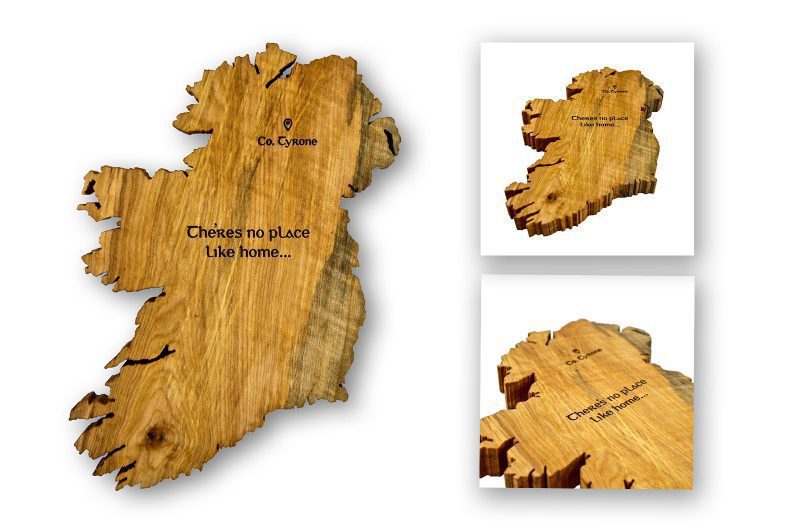 Click here to view this product.
Another design came to life when a customer required a unique wooden gift for their friend's wedding. They roughly had the idea of using some kind of symbol for love. I was more than up for the challenge, and spent a while looking for the most beautiful option.
Then I stumbled upon a lovely Celtic Claddagh Ring symbol. I hoped the customer would love it as much as I did! We both agreed it was perfect, considering the symbology and history of the Claddagh Ring. The piece would also be engraved with the couple's names and date of their wedding.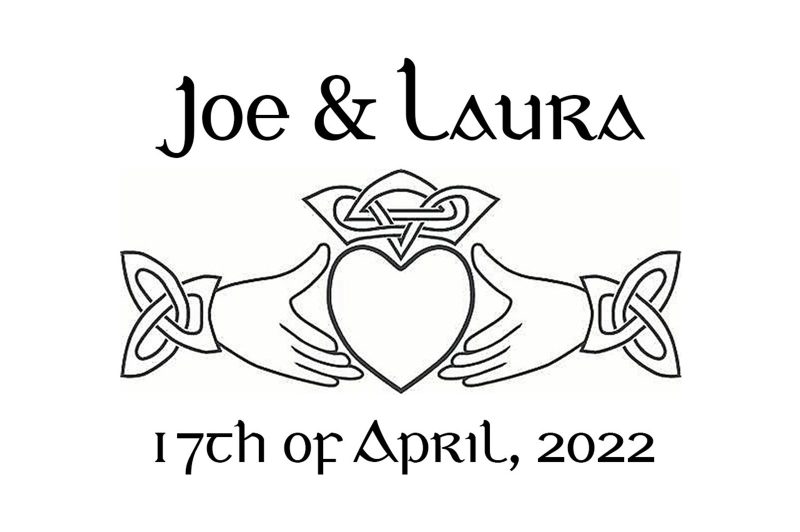 The Claddagh Ring is a traditional Irish ring that dates back to medieval Ireland, over four centuries ago. Its design includes a heart, crown, and two clasped hands. The heart symbolizes love, the crown is for loyalty, and the two hands represent friendship. This magical creation originated from a little fishing village – the Claddagh, County Galway. To this day, the Claddagh Ring is exchanged and worn between those in love, uniting them together forever.
These pieces are also often purchased as an Irish 5 year anniversary gift (considering wood is the material traditionally used for this celebration).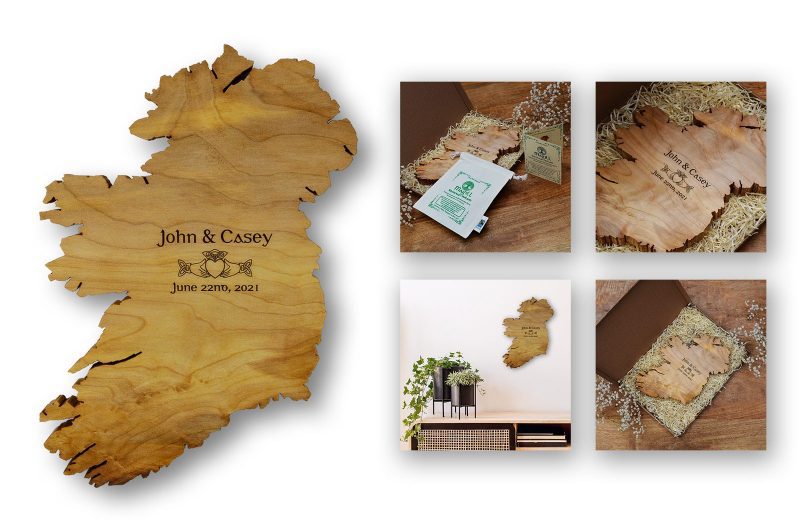 Click here to view this product.
The following map I created is one I particularly love. This includes not only the recipient's native townland/ county, but also their surname. To me this piece is really special, as it evokes a feeling of pride for one's family name/ origin. I also offer this personalisation as Gaeilge, which can look even nicer.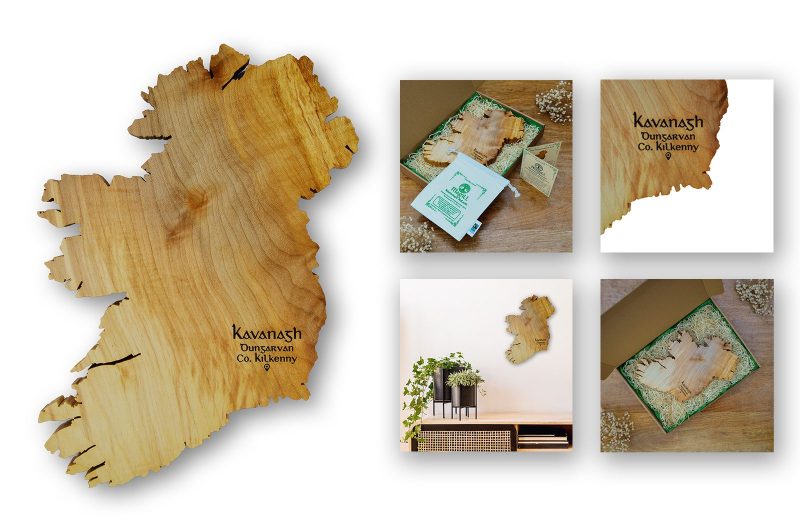 Click here to view this product.
One of my most recent creations was an Irish map wall clock, engraved with the recipient's local townland. I'd been asked to make these a couple of times, but only got around to it this year. After a good while of thought and design, I was happy to ahead and craft the piece. The map features decorative clock-hands, and the counties of Ireland are outlined. Both myself and the customer were delighted with the end-result!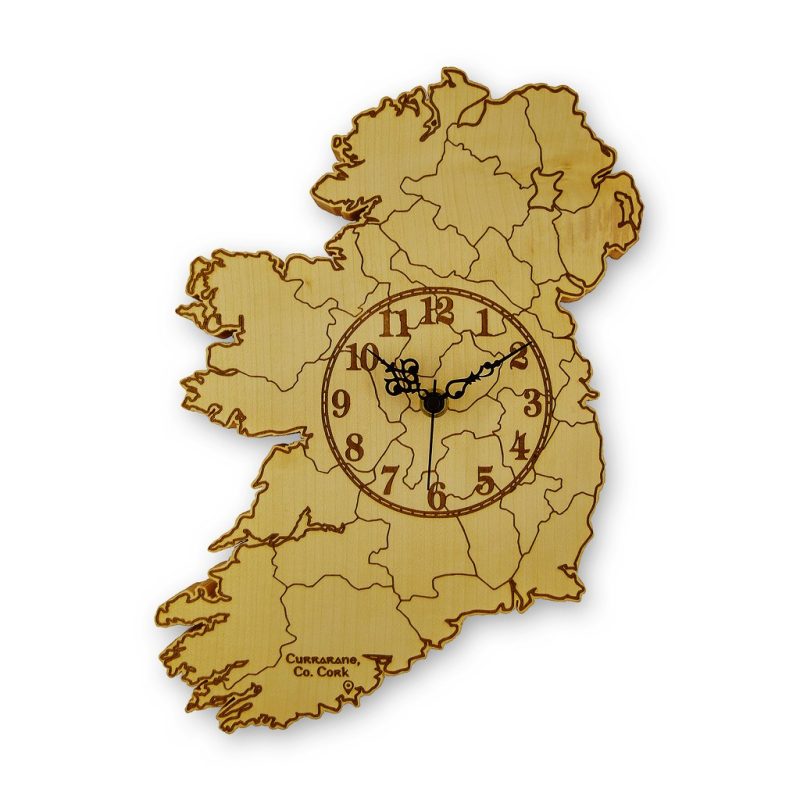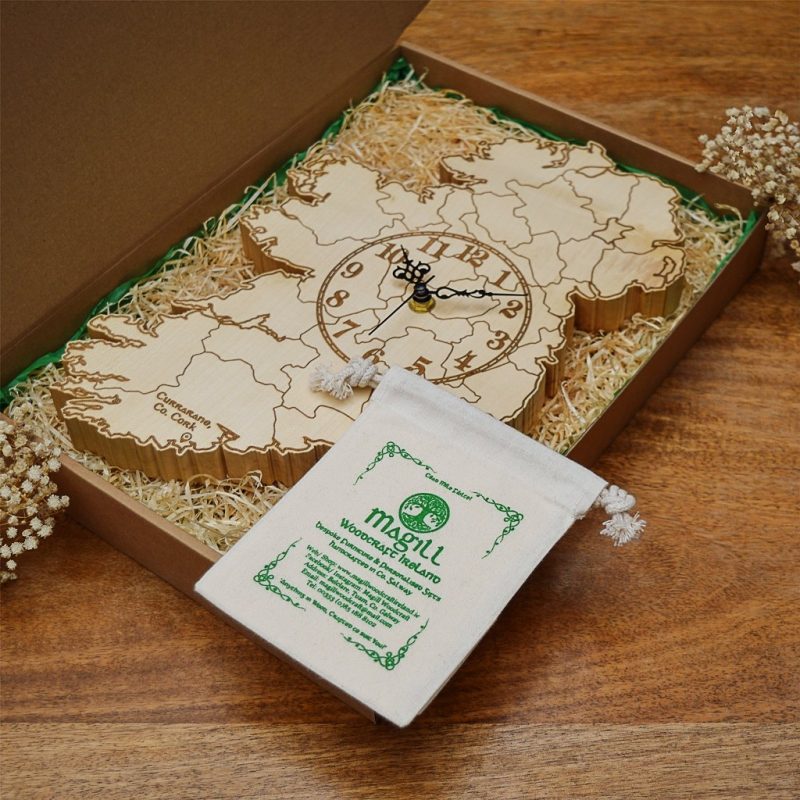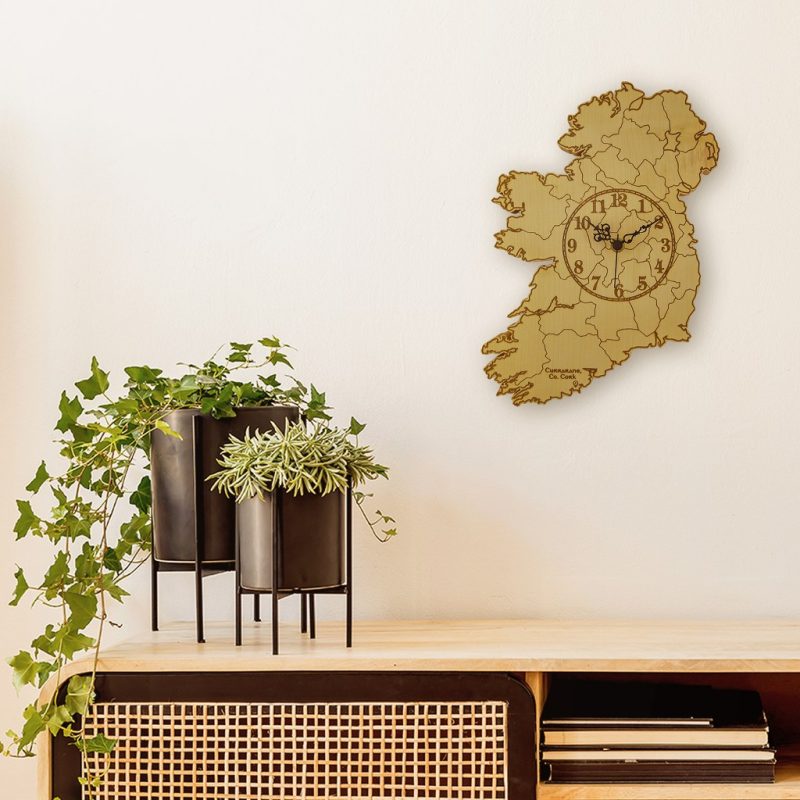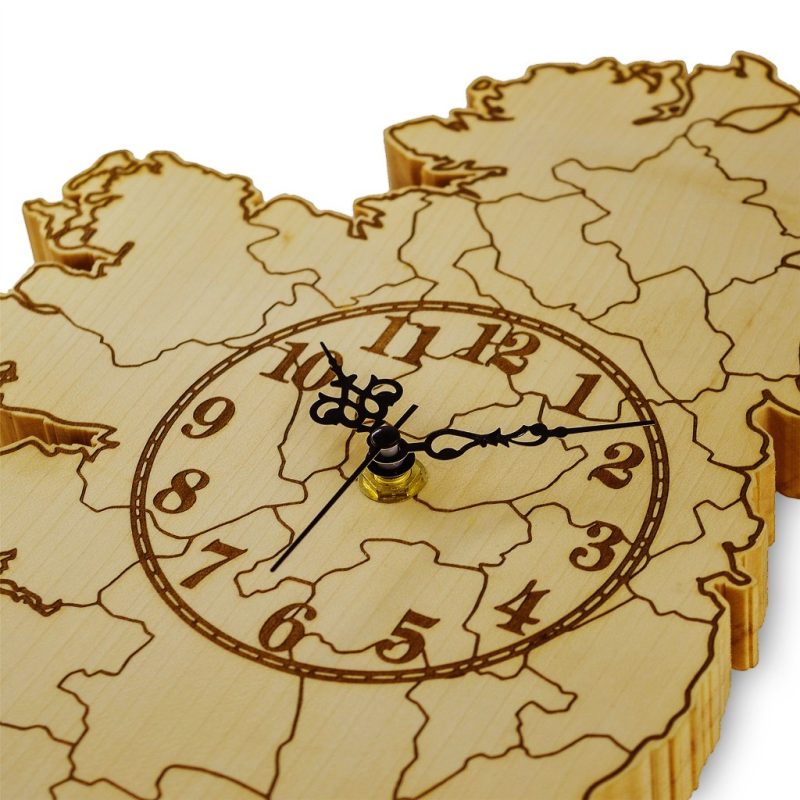 Click here to view product.
All of these go back to my belief in going with the flow of life. You never know what doors might open, that could change your journey forever. I love when something sparks new inspiration. There is a feeling of real satisfaction when an idea turns into reality!
View Full Range of Products Here
'Ní fhásann crann ar bith leis féin in Éirinn'…
As the Irish seanfhocail goes; 'Ní fhásann crann ar bith leis féin in Éirinn' – literally meaning 'No tree grows on its own in Ireland '. Basically, no man is an island, and this couldn't be more true in my case. I don't know where I'd be with the support and inspiration of all the people in my life. And this certainly applies to anything new I create.
Whether it be a heartfelt gesture for a loved-one, or a new blog post about a unique Irish wooden gift, everything holds a story – which hopefully will contribute to the kindness of humanity…